May 18th, 2015
Most people have some kind of life assurance policy to protect their family from losing their home. But what about replacing your income in the event of your death? What kind of life would your family lead after you were gone?
You have probably already bought mortgage protection insurance, a policy that will pay off your mortgage in the event of your death before the end of the mortgage, meaning that your family will be able to stay in their own home. Or you may have a separate life assurance policy that pays out a lump sum if you die within the next 20 years for example. (If you have neither, you should consider doing so immediately).
But what about all the other monthly commitments your family has?  Mortgage protection insurance is designed to pay off just your mortgage and no more. Your separate life assurance will pay a lump sum to your dependents but, once it's been used to pay off the mortgage, can you be sure that the remainder can generate enough income for your family to live on after you've gone? For example, if your mortgage is £150,000, then a £200,000 lump sum from a life assurance policy will result in £50,000 to invest, once the mortgage has been paid off. At current interest rates on deposit accounts, that £50,000 is unlikely to generate more than £1,000 a year before tax. (2% Gross AER).
Life needs living and bills still need paying. Family Income Benefit picks up those monthly costs if you're not there to cover them. With policies starting from £10 a month it's often the most cost-effective cover to buy and can run until you are 80 if need be.
Family Income Benefit can replace your income if you die… and is very inexpensive.
Example
Say you take home £2,500 a month after tax and want to make sure that your family will get that income for the next 20 years. If you take out a family income benefit policy and die two years later, your family would get £2,500 a month for the remaining 18 years covered (a total of £540,000). Or if you die after 19 years, your family will get £2,500 a month for that last year (a total of £30,000). Either way, your family's income is safeguarded for the full 20 years.
Depending on your family's lifestyle, this can cover food, light, heating, clothing, travel and even holidays: things that would be very difficult to afford if you were to die without Family Income Benefit or a similar income protection policy.
It pays to consult a specialist protection insurance adviser like Marchwood IFA to find out whether you and your family are protected from life's unexpected events. If you'd like to talk through your current protection needs, please contact us on 01243 532635
November 11th, 2013
1. It pays out 90% of the time 
This infographic below from LifeSearch shows that, on average, people believe only 38% of protection insurance claims get paid. But the companies who provide life cover, income protection and critical illness insurance and publish claims statistics for these products, actually pay 90% of all claims. A total of £6 million is paid out every day for claims on these policies.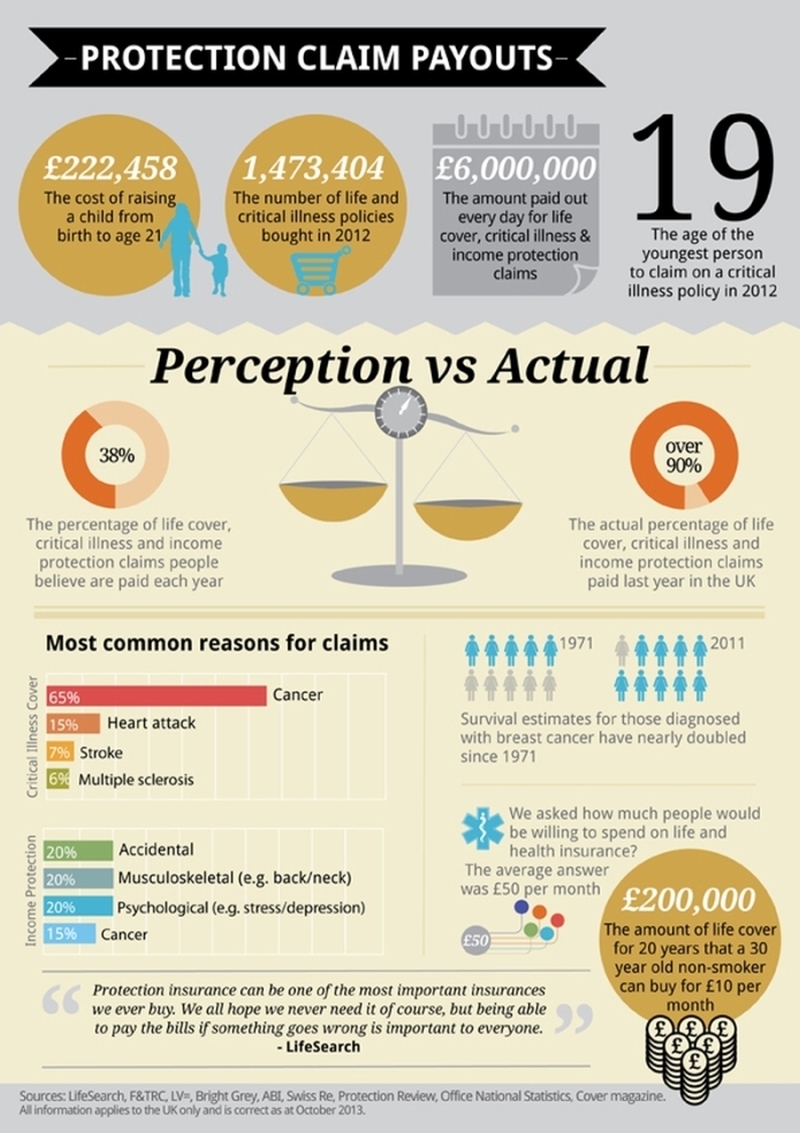 2. It's not that expensive
According to industry figures, people spend an average of £27 a month on protection policies – about the same as half a tank of petrol in the family car, although, when asked to name a sum they would be prepared to pay, it is almost double that. Factors such as age, health and level of cover will affect the premium, but here at Marchwood we have found that the average monthly cost our customers pay per policy has hardly changed over the last few years. In some cases our clients have found that the cost of cover, especially for life assurance, is much lower than they had expected. As the infographic shows, a 30 year-old non-smoker can buy £200,000 of life cover for 20 years for just £10 a month.
3. The State will not always provide
It is true that you can claim Employment and Support Allowance from the State if you suffer illness or disability and are unable to work as a result. However, for those over 25, this is around £71 a week for the first 13 weeks, then just over £100 a week. But a protection insurance policy's payout is likely to be much higher.  Ask your financial adviser for an illustration based on your exact circumstances. Importantly, if you die, the State does not make a significant payout to your dependents – that will only come from an insurer with whom you have life insurance or family income benefit cover. A recent study by LV= found that the cost of raising a child to 21 years of age is now £222,458. If you were to die before your children have grown, who would pay that bill? Not the State, that's for sure. A payout from your life insurance policy could make sure that your children's future is secure.
4. Your employer will not necessarily look after you
With the UK's economic recovery looking fragile, employers are still looking at cutting their staff costs to reduce losses or boost profits. According to a report by global insurer, SwissRe, more than 75% of all UK employers, especially small and medium-sized enterprises, do not provide life insurance, income protection or critical illness cover for their employees. If you think you are covered by the terms of your employment, you should check with an adviser to make sure that you have what you need. If you suffered illness or disability and were off sick long-term, you would only be sure of getting Statutory Sick Pay from your employer of £86.70 a week for the first 28 weeks. But a protection insurance policy's payout is likely to be much higher and for longer.
5. It might happen to you
No one is immune from illness.  Macmillan forecasts that, by 2020 nearly half the UK population will develop some form of cancer during their lifetime and many people are involved in accidents each year – some serious enough to keep you off work and reduce or remove your income. This is a particular risk if you are self-employed and need to be fit and well to carry out work for clients. It pays to consult a specialist protection insurance adviser like Marchwood IFA to find out whether you and your family are protected from life's unexpected events!
July 3rd, 2013
The Nationwide Building Society's latest house price index data shows that the cost of an average home in the UK has increased to £168,941, which is up by 4% since the beginning of this year. Prices are typically rising by around £1,000 per month (the average in January was £162,262). Consumers are becoming more confident about buying property and Government schemes to boost lending such as Help to Buy and the Funding for Lending Scheme are resulting in cheaper mortgages available at higher loan to value ratios, meaning smaller deposits are needed.
Prices in June were up by 1.9% year on year, which, whilst not exactly a boom, is the fastest rate of increase since September 2010. Homeowners will feel better at seeing these price rises – especially those who have invested in buy to let property and have not seen any significant capital growth in the last few years. Momentum is certainly building in the UK property market and, with consumer confidence being so important to the wider economy, the Government is banking on the property market to provide an economic boost.
As a buy to let investor, though, beware of the regional variations that are behind the overall rise in house prices. The Nationwide has said that the gap between London house prices and the rest of the country is the widest it has ever been. Across the UK as a whole, average house prices are down by 9% on their peak in the autumn of 2007, whereas average London property prices are up by 5%. (Northern Ireland property is worth 52% less, on average, than in autumn 2007).
House prices are expected to continue to rise, fuelled by the availability of cheap mortgages, increasing consumer confidence and lack of housing supply.  There has been a massive decline in building activity since 2007 and it will take several years before the construction industry starts building enough houses to keep up with increasing demand. In the meantime, would-be first time buyers are having to use the private rental sector for their housing needs; and that is why buy to let offers an attractive opportunity for investment.
What should you do?
If you are a buy to let investor – or are thinking of entering the buy to let sector, looking for rental yield and capital growth, you need to know the best rates and the most favourable lending criteria in the mortgage market right now. Even if you are not a buy to let investor, but simply want to know the best way of financing your house move, you still want the best mortgage for you from the whole of the market, not necessarily the best mortgage that any one bank offers.
Why not contact Marchwood IFA for a chat about your options? Unlike individual high street banks and building societies, we can advise you on the right mortgage for you from the whole of the market. Finding the right mortgage product is one thing but getting a mortgage offer is altogether different. And this is where we really add value. Our sole objective is to get you what you want in the most painless way possible. When dealing with the banks this is not always straightforward, so we collect everything required from you and liaise on your behalf with the lender until the mortgage offer is produced and you can move into your new home. Whether you are buying a new home or an investment property or wish to refinance an existing mortgage, we have the skills, tools and experience to help.
Your property may be repossessed if you do not keep up repayments on your mortgage.