October 23rd, 2013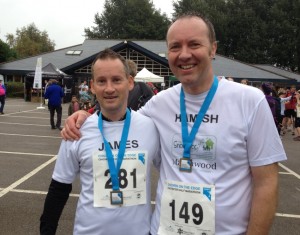 Two directors of Chichester-based Marchwood IFA, James Mayne and Hamish Gairns, competed in the Chichester Half-Marathon on Sunday 13th October in aid of the Sussex Snowdrop Trust (www.thesussexsnowdroptrust.co.uk) a unique charity providing 'Care at Home' for local children who have a life-threatening illness or who may be terminally ill. Braving heavy rain and a stiff breeze, they managed to finish the event in a very respectable time of just under 2 hours.
Mortgage advisor, James Mayne, commented "It was hard going and I've been paying for it ever since but we are both pretty pleased with that effort."
Pension and investment specialist, Hamish Gairns, added "It's a really worthwhile local charity, so we're delighted to have raised £500. We'd just like to thank our sponsors for their generosity – and there's still time to give if you haven't already at www.justgiving.com/marchwood"
The company is also offering to donate a further £50 to the Sussex Snowdrop Trust for every critical illness policy sold between now and 31st December 2013 which includes critical illness cover for children. Contact info@marchwoodifa.co.uk for more details.