February 23rd, 2015
• Annual lending total is the highest since records began in 1992
• More than 21,000 new customers in 2014 – the most recorded since 2008
The total value of equity release lending reached almost £1.4bn (£1.38bn) in 2014, according to the latest industry figures from the Equity Release Council. This is the largest annual figure since records began in 1992, exceeding the previous high (£1.21bn in 2007) by 14%.
This 2014 total is also a 29% increase from 2013, bringing the equity release market back above pre-recession levels as homeowners aged 55+ increasingly use their housing wealth to boost their finances and help with living costs in later life.
Source: Equity Release Council
Six-year high for new customer numbers
The total number of new equity release customers in 2014 was 21,336, a 13% increase from 2013 and the largest yearly figure since 2008. Customer numbers have now grown for four consecutive years since the recession.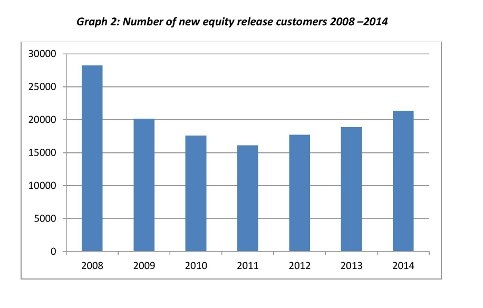 Source: Equity Release Council
The average value of equity release lending also hit a new milestone in 2014, reaching £64,787.  This is an increase of 14% from last year and exceeds the previous record of £60,504 in 1998 by 7%.
Equity release can be a very useful option for those in retirement who are 'asset rich' but 'cash poor' – i.e. they own a valuable property but have a relatively low income – and who can boost their income by releasing some of the equity in their property. See our article on 'Equity Release – could it provide you with a better retirement'.
Note that Equity Release is usually only offered to clients after other solutions are eliminated, for example:
Remortgage. Sometimes this is not the right solution because the client is either too old or does not want to have to pay the monthly repayments on a mortgage, something you don't have to do with an Equity Release product.
Moving. We always make sure that the clients have considered downsizing first – not an option if they wish to stay in their current home because of its location.
Bank loans. Not normally a good solution due to the relatively high monthly cost.
Borrowing from family. Not usually possible.
Using existing savings.
We also always encourage family members to be part of the discussions.
On all our products there is a 'No Negative Equity' Guarantee. Which means that – no matter when the client has to pay the lender back and how much is outstanding – the loan will never be more than the value of the property at that time.
There are several different equity release schemes available on the market so you need to seek professional financial advice before deciding whether Equity Release is right for you. Equity release may not be suitable for your needs. Please obtain specialist independent advice and always ask for an Illustration.